Engage with customers in a new and more meaningful way. Innovate, solve problems, leverage technology to create new opportunities, be more agile and transform your business
The Agile® Professional Training and Certification Scheme helps you understand the fundamentals of business and digital transformation and then help you develop the requisite skills to successfully create organizational agility and transform your business. The scheme is presented as four certifications that first helps you understand the fundamentals of ADapT – then three practitioner certifications follow, helping those who will lead transformation during different stages of the transformation journey. The scheme has been designed to keep your learning cost low. Not everyone in the organization needs to do all of the courses. Courses and certifications are role-based, and focus on the role someone will play in the transformation journey! The Certification and Credentialing scheme outlined in the infographic below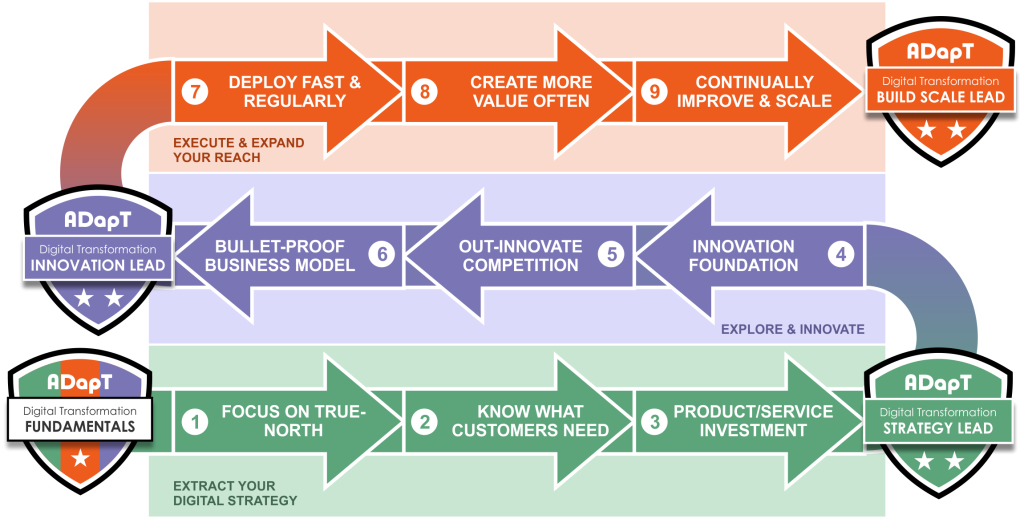 Agile ADapT™ is not only an approach – it is also a community. 
Get free access to the Agile ADapT Community Portal when you get ADapT Certified!
You will find interesting articles, case studies, the community ask and answer section, mentoring opportunities and much more!
As a Professional Consultant or Coach you get access to the Professional Community Pages, with content specifically for practicing professionals. It is also a place to help you plan your career progression and get career advice.
 Also get 50 to 75% discounts on micro-credentials, workshops, conferences, books etc.
About AdapT
We use a simple 9-step process to help organizations EXTRACT the organization's (digital) strategy, EXPLORE what offerings are possible and commercially viable, and EXPAND organizational horizons rapidly by unlocking customer value at scale.
E&OE – Agile ADapT® is a registered trademark of getITright BV, the triquetra Logo, is a trademark of getITright BV. (EU No: 018837926).
The IACB Globe are Trademarks of JH Botha.