The core ADapT reference was published in September 2021. Competing in a digital future –  got rave reviews from organizational leaders and industry experts, and was included in the Thinkers 360 – 50 books to read in 2022.
As we worked on Out-innovate the competition (outlining an innovation method) – we also started updating the content of book 1, and the Second Edition of Competing in a digital future was published late 2022.
Book 2 book was published 11 months after book 1, and Thinkers 360 once again liked it and added the book to their 50 books to read in 2023 list.
Competing in a digital future
Competing in a digital future is the first and CORE ADapT book.
The book gives an overview of the entire approach and outlines the ADapT Nine-Step-Process.
In the book we also highlight additional resources and how they apply to each step.
You can start anywhere in the nine-step-process as it is an iterative approach.
We have learned that customers often elect to start with step 6 (because they have a defined innovation challenge), or step 9 (because there are some operational problems that needs immediate attention). 

Although we believe that step 1 is the best place to start, the approach is flexible. After all the product is called Agile ADapT!

The Second Edition of the book is currently in print and available. 
Out-innovate the competition
Out innovate the competition helps you do step-5 in ADapT well.
We call the method the Innovation Sprint and it is a three to four day focused activity to do product or service innovation, and validate the idea's feasibility. 
A super short version, called a Super Sprint, of two days can also be done, see our workshops.
This book is also the student guide for our Innovation Sprint Courses and Practical Workshops. 
Workshops and courses are available from us or one of our partners.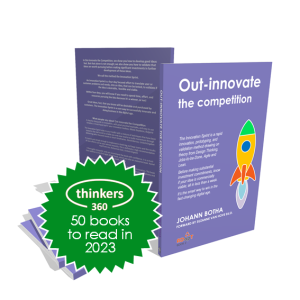 Step 7 on the ADapT 9-step-process is about working in an agile way.
Many people think agile is a method – it's not. It is a management philosophy, and permeates the way an organization do anything and everything!
You must BE agile, not only DO agile.
Since Johann has already written three books about being agile and an agile and Scrum – an ADapT book about step 7 is unlikely to follow.
These two of the books are still in print; Agile, a Managers Guide (to unlocking value using Scrum), and The EXIN® Handbook for Scrum Masters and Product Owners (the second, available for free on the EXIN website).
Enterprise Service Management
The ADapT story started when the architect of ADapT got involved in defining and Enterprise Service Management approach for the Digital Age in 2015, called VeriSM. 
ADapT is one way VeriSM can be interpreted. Because many people wanted a recipe to follow, Johann started writing ADapT, and the ADapT 9-step process is that recipe. 
Johann calls VeriSM education and ADapT, learning a simple and practical way of doing what you were educated about.
EXIN (the intellectual property holders of VeriSM) has made the VeriSM books available for free for a limited period of time. You can also download them here. 
Johann was one of the Lead Author for the second VeriSM Book called Unwrapped and Applied, and is a VeriSM trainer & the current Chief Examiner for VeriSM, and Agile Scrum certification.
About AdapT
We use a simple 9-step process to help organizations EXTRACT the organization's (digital) strategy, EXPLORE what offerings are possible and commercially viable, and EXPAND organizational horizons rapidly by unlocking customer value at scale.
Privacy Policy
E&OE – Agile ADapT
® <
® is a registered trademark of EXIN Holdings and VeriSM® is a registered trademark of IFDC. The IACB Globe are Trademarks of JH Botha.